Melissa & Jim Hogenson welcome you to the Clay Images home page.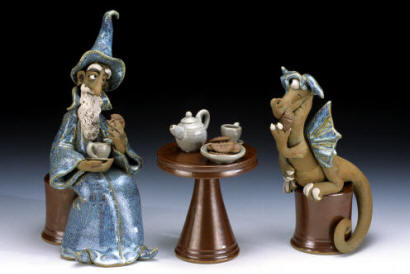 Our fertile imaginations and hard-working hands have created a unique line of friendly dragons in stoneware clay. Though each is a fine sculpture on its own, they also all have a function - oil lamps, incense burners, and drinking vessels. We sell our wares from our home, through the internet, at art fairs around the U.S.A., and at the Kansas City and Arizona Renaissance Festivals.
To see some examples of our best selling items and order some for yourself, click on the links above.
Visit Clay Images at one of our events to see one-of-a-kind sculptures like shown on this page.